18. Salary Rates for Auxiliary Personnel
The salary rates for auxiliary personnel shall be inclusive of vacation pay.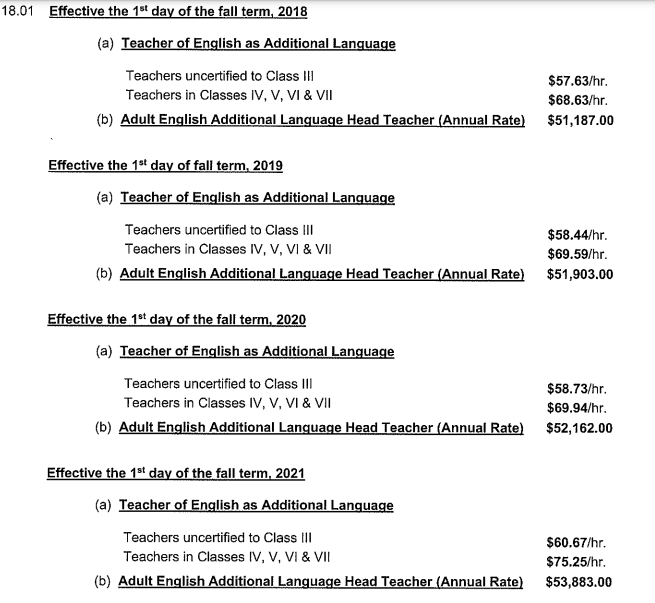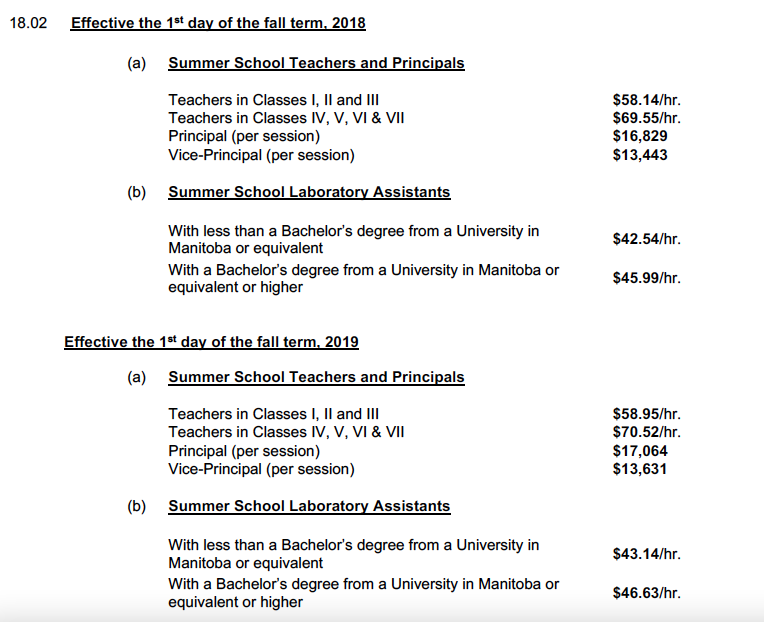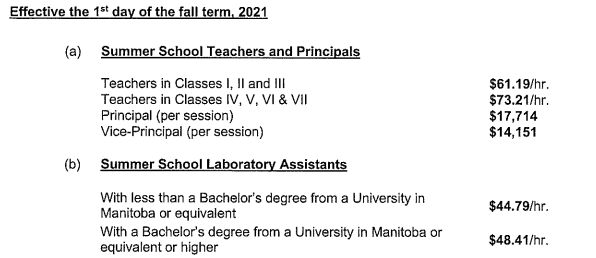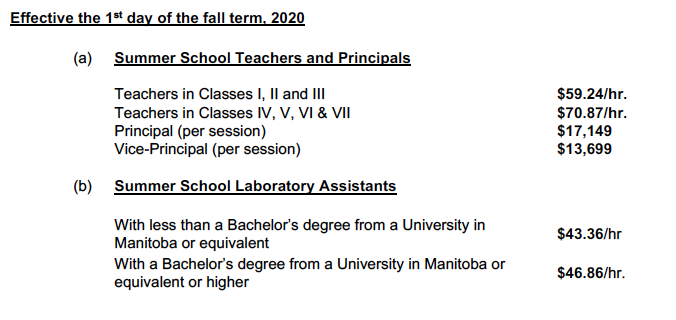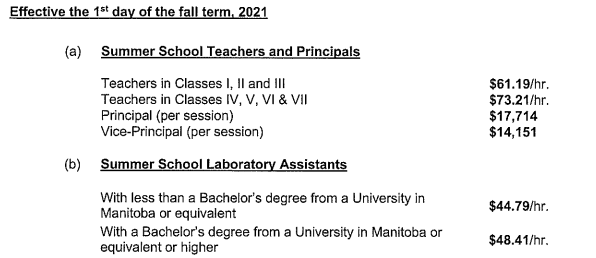 18.03 Substitute Substitute Teachers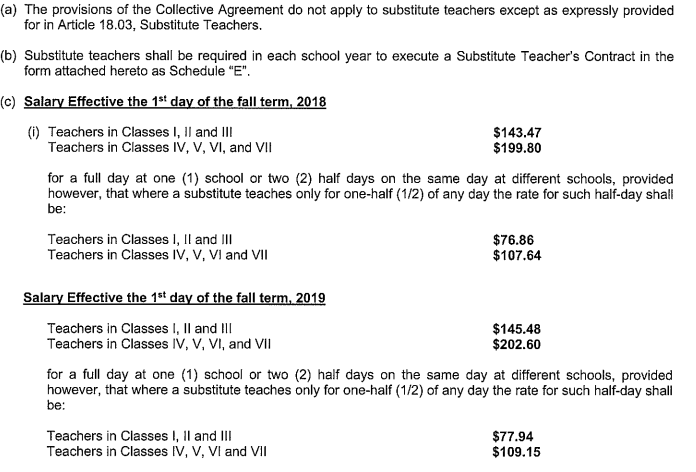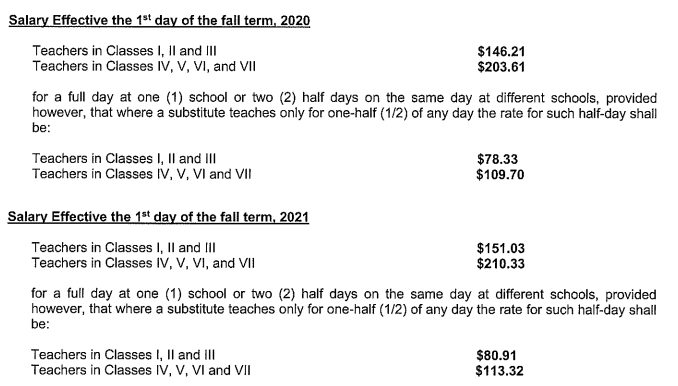 (ii) Should a substitute have continuous employment in one (1) position for a period of five (5) teaching days or more, payment shall be made at the rate of one two-hundredth (11200th) of the substitute teacher's basic salary as determined by Article 9, Salary Schedule of this agreement for each day of employment in the said position.
(iii) No substitute shall receive a salary rate higher than the maximum salary rate provided under the Basic Salary Schedule for a Class IV teacher.
(iv) The Division shall reimburse each substitute teacher the same allowance normally received by the teacher being replaced for travel between an assignment involving two or more schools or work sites within the Division's jurisdiction.
(d) Manitoba Teachers' Society Fees
All substitutes eligible as members in good standing, shall be required to pay the fees of The Manitoba Teachers' Society, such fees shall be deducted monthly and be pro-rated on the basis of the number of days worked in that specific month.
The Association shall indemnify and save harmless the Division from any and all losses, costs, liabilities or expenses suffered or sustained by the Division as a result of legal action arising from the deduction of The Manitoba Teachers' Society fees provided, however, that should the Association so require, it shall be permitted to take over and conduct such legal action and make such settlement thereof as it shall see fit.
(e) Sick Leave
A substitute teacher shall be allowed one (1) day of sick leave with pay for each nine (9) consecutive days taught in an assignment. Sick leave days shall not accumulate from assignment to assignment.
The use of a sick leave day with pay shall not constitute an interruption of consecutive days of substitute teaching in an assignment.
Assignment shall mean consecutive teaching days in one (1) position.
(f) Professional Development
A substitute teacher who has worked for the Division for at least fifty (50) teaching days in the previous school year shall be entitled to request in writing to the Director of Human Resources, or designate, to attend one professional development day in the next school year. Attendance, if approved, shall be considered as time worked under Article 17.03, Substitute Teachers.
A substitute teacher not meeting the above eligibility requirements may request to attend scheduled professional development days. Such attendance, if approved, shall be on a without pay basis.
Approval in either instance shall be at the sole discretion of the Division.
(g) Applicable Articles of the Collective Agreement
The following articles of the current Collective Agreement shall apply to substitute teachers with amendment as noted *:
Article 1 – Purpose
Article 2 – Bargaining Agent
Article 3 – Duration of Agreement
Article 4 – Applicability of Regulations, By-Laws and Code of Rules
*with the exception that only Chapter 1, Chapter 2 sections 2.4 and 2.6, Chapter 3, Chapter 4
section 4.1 of the Code of Rules apply
Article 5.01 – Individual Teacher's Contract
*only (b) of Article 5.01 applies
Article 6.01 – Deduction of Winnipeg Teachers' Association Fees
Article 7 – Singular/Plural
Article 8.01 – Committee on Adjustments
Article 8.02 – Settlement of Disputes
*except that:
The only matters that may be grieved under the Settlement of Disputes Article by a substitute teacher or the Association on behalf of a substitute teacher are the provisions of this Article, and the substantive rights and obligations of employment-related and human rights statutes to the extent that they are incorporated into this collective agreement
Article 9.01 – Basic Salary Schedule
*applies after the qualifying period within Article 17.03 – Substitute Teachers
Article 9.02 – Educational and/or Professional Qualifications
*only applicable up to Class IV for the purpose of salary under Article 17.03 – Substitute Teachers
Article 9.04 – Teaching Experience
*only b (i) and b (iii) apply in the determination of teaching experience
Article 9.05 (a) – Retroactive Salary Adjustments
Article 9.05 (c) – Reclassification Due to Additional Qualifications
*limited to Class IV in accordance with Article 17.03, Substitute Teachers
Article 9.05 (d) – Reclassification Due to Change in Evaluation
*limited to Class IV in accordance with Article 17.03, Substitute Teachers
Article 9.08 – Direct Deposit of Salaries
Article 16 – Interest on Retroactive Salary
Article 23 – Meal Period
Article 30 – Discipline
* does not include 30.01 Complaints
Article 31 – Personnel Files
Article 32 – Harassment
Article 33 – Lists of Names and Addresses
Article 34 – Contracting Out
Article 35 – Joint Committee